Intelligent Dance Lighting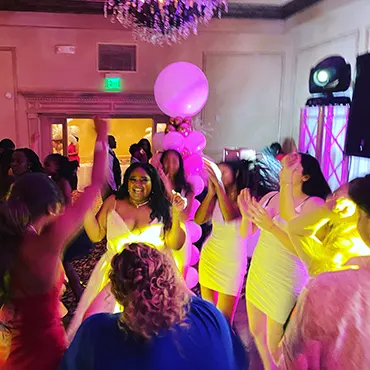 Light up your dance floor with our intelligent moving lights. Similar to concert lighting these impressive moving fixtures put on a show. Emitting powerful L.E.D. light our fixtures are capable of many variations. Slow background ambience, spotlights, custom name display, strobing and colorful dance scenes. These intelligent lights do it all.
Room Up Lighting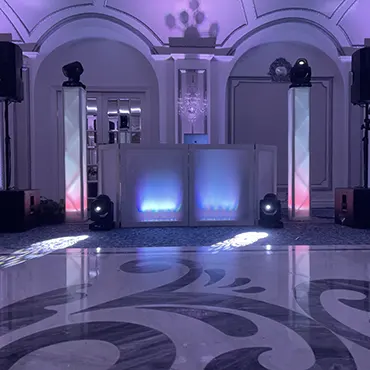 Although some banquet halls now offer room up lighting.  Party Vibe entertainment carries premium wireless up lighting. These are multiple fixtures placed around the outer perimeter walls of the banquet room. The fixtures are placed at floor level and shine up the walls and ceiling illuminating the entire space. We typically use 24-48 light fixtures for most rooms but can accommodate larger events as well.
Dancing on Clouds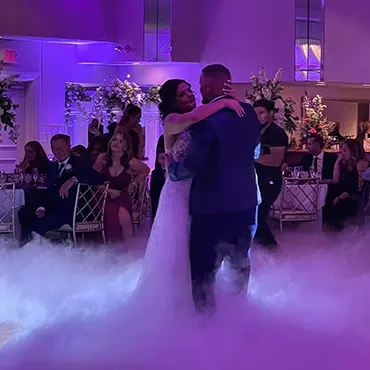 Picture perfect! This amazing service is all about that one picture you will look at for the rest of your lives, your first dance. Dancing on the clouds is exactly as it's titled. With our professional Dry Ice machine we create a low lying cloud on the dance floor. Yes, that is correct. This cloud engulfs the dance floor and makes the portrait of a dancing on a cloud. It is simply cold oxygen so it is safe. It's an enchanting touch to your memories. We typically always have enough for a second round later in the evening.
L.E.D. TV Screens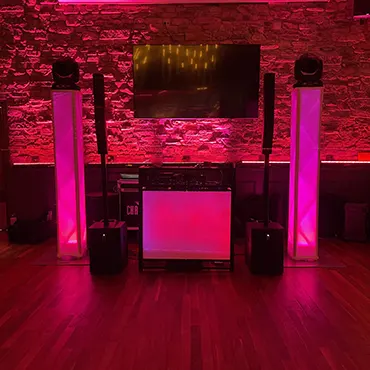 TVs at my event? Typically sold as a dual set. Our L.E.D. Screens showcase several uses. Display your same day video edit, video engagement proposal, custom video, photo montage, custom monogram, music videos, and event images. When purchased as a TV Package a candid photographer is included. This candid photographer shoots pics through out your event capturing friends, families and moments. Then those images are displayed on screen. These images are also yours to keep. Photo montages are your pictures through the years which are formatted into video, then displayed on screen at your event. Ask us more about Photo Montages.
L.E.D. Robot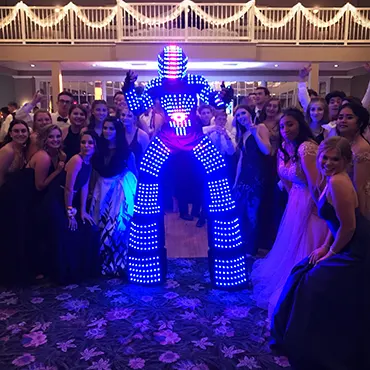 Let's bring out the party starter! Orginating in the Nightlife Scene, L.E.D. Robots were an impressive part of the night clubs. Now you can bring that to your event with Party Vibe Entertainment. Our L.E.D. Robot is equipped with hundreds of bright L.E.D. lights and stands 10 Feet tall. The Robot captures the attention and parties in the crowd. It is equipped with a CO2 club cannon which is sprayed in the crowd. Blasting the cloud with a cold wave of CO2. The Robot performs a show and is then available for pictures.
Photo Booth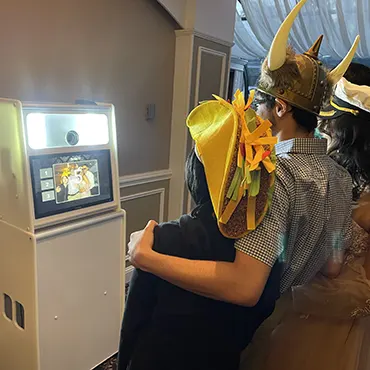 Trending popularity a photo booth has become a "must have" for every event. Capture pictures with friends and family in one of our offered photo booths. Unlimited use and unlimited prints you and your guests will love our booths. Fun props make laughs through out the night. Reminisce your Photo Booth experience with our memory scrap book. Ask us more about Photo Booth and which one is best for you.
Cold Spark Machine
One of the most impressive enhancements you can have. Cold sparks adjustable from 4ft to 15 ft high. Blow your guests away during your grand introduction with a set of cold sparks. These sparks make a lasting impression for your photo and video for your event. We set off these sparks during your introduction, first dance and through the night for an impressive unforgettable enhancement. The cold spark machines are safe to the touch however we still take extra precautions for a safe wonderful spectacle.
Percussionist
Live performer brings all types of Percussions. From Snares, bass drums, bongos and symbols. These performers play during your event and really mingle in that live music aspect to your event. Even as an honorary guest. Our Percusionist will allow you to play the part and snag an action pic of your skills on the drums. Live Percusionist are an excellent addition to your wedding.
Saxophonist
It's impressive, it's sexy, and it flows the sounds all together. Our dancing saxophonist is just as excited to perform as we are! Our very talented sax player plays with the music and catchend some excellent solos. He plays modern and old school tunes in the dance crowd. Your guests will surround themselves around our saxophonist with a high energy!